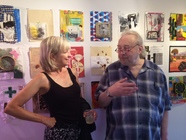 Laura Bell and Ian Ganassi
Laura Bell
gained an appreciation for the spontaneous and serendipitous while studying with Fluxus artist Robert Watts at Douglass College. Her paintings and mixed-media work have been exhibited in New York, Provincetown, New Haven, Chicago, Philadelphia, Berlin, and elsewhere, and she has been an artist-in-residence at the Millay Colony. Her ongoing collaborative collage series with poet Ian Ganassi has been mailed back and forth between them since 2005. Her paintings and works on paper can be seen at lauraelizbell.net. Laura lives and has her studio in the Bronx.
Ian Ganassi's poems have appeared and are forthcoming in numerous literary magazines, including
Unlikely Stories,
BlazeVOX
,
Clockwise Cat
,
Past Simple, Otoliths,
The Yale Review, Stand, Offcourse, MadHat Annual, Blackbox Mainfold
(UK),
New American Writing,
Warwick Review
(UK),
Interim
,
Sawbuck, Map Literary
,
and
Trickhouse
. His poem "Blunt Trauma" was nominated for a Pushcart Prize and his translations from Virgil's
Aeneid
have appeared in
New England Review.
His book-length poetry collection
True for the Moment
was accepted by MadHat press in 2018, for publication in Fall 2019. His book-length poetry collection
Mean Numbers
was published in September 2016 by China Grove Press. Ian lives in New Haven, Connecticut, and has worked as a writer, teacher, and percussionist.
Selections from "The Corpses" have been exhibited in galleries including Zone Contemporary Art, NYC, in "Disciplined Spontaneity," a historical survey including works by such antecedents as John Cage; AMP Gallery, Provincetown, MA; Local Project, LIC, NY; Materials for the Arts, LIC, NY; and have been published in art and literary reviews including
New England Review, Shadowgraph, The Drunken Boat, MadHat,
and
Offcourse Literay Journal.